House plans for two families
Page has been viewed 101 times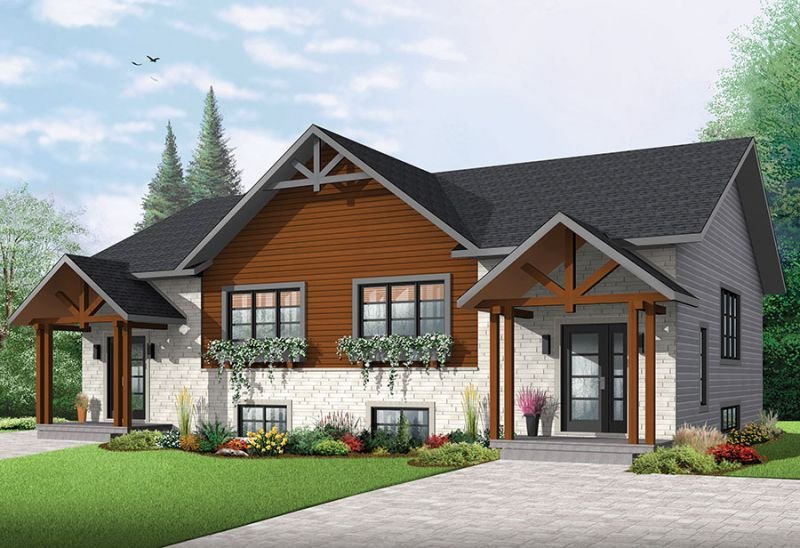 Two family house plans, which are sometimes called duplex, can serve different life circumstances. Therefore, even though we have only a few dozen two-family house plans, they are very diverse: one-story house plans for two families, two-story house plans, or even three-story houses.
House plans for two families with apartments of different sizes will be convenient for pensioners' lives next to their adult children. This is great if you help your elderly parents because they will also help you raise children or look after them while you are away.
At the same time, living together, but not together, is much easier. You do not have to break your established lifestyle, and older people all the more difficult to change their habits and daily routine. They also need peace, which is challenging to get when their grandchildren live in the house, although they love them very much.
Duplexes with equal apartments are suitable for a family in which the eldest child has created his family, and the younger ones have not yet grown up and lived with their parents. Living under the same roof but at the same time separately allows you to retire when necessary and spend time together when you want. Moreover, both families will help each other: look after the children or quietly go on vacation, without worrying that the house was left unattended.
Besides, the construction cost of twin houses will be slightly lower than building a single-family home in a similar area. Savings will be on the shared wall and the wiring and connection of communications - electricity, gas, wells for water.
Sometimes you can find house plans for two families, in which the apartments are located on different floors. In this case, the apartment on the first floor will be smaller in area, as part of the area will be occupied by a staircase or a built-in garage. Such a layout of the house will allow older people or people with disabilities to live without stairs, and young people can enjoy views of the surroundings from the second or third floor.
Of course, a significant drawback of a duplex is the complexity of the sale, but it may not be necessary to sell if, for some reason, one section is free. It is an excellent opportunity to make money on the surrender of the other half. In this case, your tenants will always be in your sight, and then there is no need to worry about the house's safety and promptly respond to the demand, for example, repair.