Page has been viewed 1756 times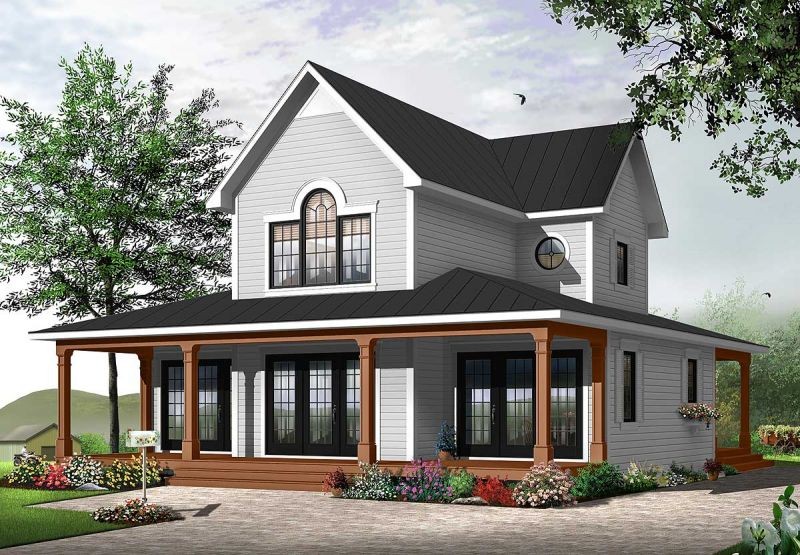 Doctors recommend more to be in the fresh air. Therefore, I try as best I can, but time for walking is sorely lacking. I need to work and do housework. Therefore, most often, I enjoy nature looking out the window. For me, an excellent compromise is a veranda in front of the house.
When I chose a house project a few years ago, I insisted on a house project with a front porch. I liked the designs of houses with verandas on three sides, but I stopped on a verandah of modest size, on which you can place a couple of chairs and a table.
From my "perch" on the veranda, after minor changes, I breathe fresh air and enjoy the views of nature from a comfortable chair, being 10 meters from the bathroom (with towels and soft toilet paper).
But can staying on the veranda bring the same benefits as going to a forest or a park? I would say yes. Here's how.
Porch
• Veranda reduces recovery time from illness
Professor Roger Ulrich, a leading expert in the environment, said that staying out of town and in open spaces can speed recovery from surgery or severe illness. If you study his research, then it turns out that all you need to speed up your recovery is one or two trees not far from the veranda. Therefore, if you do not see the veranda trees, it is easily fixable - plant.
• Front porch reduces stress and strain.
In one of the experiments at the University of Texas, they send volunteers on a perilous virtual journey by car. Half of the subjects went for a walk in the park after the trip, and half remained indoors. After three minutes, the first group's heart rate, blood pressure, and muscle tension normalized much faster than the second group, which stayed in the room.
What is the connection to the veranda? First, try to stay away from dangerous car trips - both virtual and real - stay on the porch, which will not go anywhere shortly.
• Porch helps reduce the risk of cancer
A trip to a park or a public garden means physical activity that helps us fight disease. Nevertheless, I can exercise to fight cancer can be done right on the veranda. Transfer your treadmill to the porch, put on mats, and do 10-20 yoga exercises, jump or do aerobics.
By the way, one risk that causes cancer will be less if you practice on the porch - the risk of skin cancer caused by sunburn. You do not need to be covered with greasy sunscreen, leaving your hands almost clean to return to reading a book or magazine after exercise.
• Veranda protects against dehydration
Everyone heard the recommendation to drink half to two liters of water a day. It is pretty tricky, even on average days, and almost impossible when you walk on foot - a bottle of water begins to seem 50 times heavier than the weight indicated on it when you carry it through fields and streams. However, the veranda provides space for drinks at a nearby table. And when "nature calls? Step inside the house - and enjoy the magic of sewage and running water.
• Porch improves mood and puts in order thoughts
Some people have a stereotype about how to meditate. You know, lit candles, sitting in the lotus position on silk pillows, in the mountains, or on the beach.
My way of meditation is much easier. Wipe the handles of the wicker chair, shake off the waterproof pillows and sit on the chair. I close my eyes, breath, and all my attention is on the breath. If a dog barked, neighbors rustle, or loud music distracts me, I will pay attention to them and return attention to breathing. So I do as long as possible. Now, almost on automatism and without effort, I hardly notice the street theater, located a few meters from my front porch.
Therefore, enjoy the fantastic nature of sitting on the veranda in front of the house and recovering, preventing cancer, breathing deeply, and slumbering in silence. So. Order a house plan with a porch!