Timber and log house plans
Page has been viewed 778 times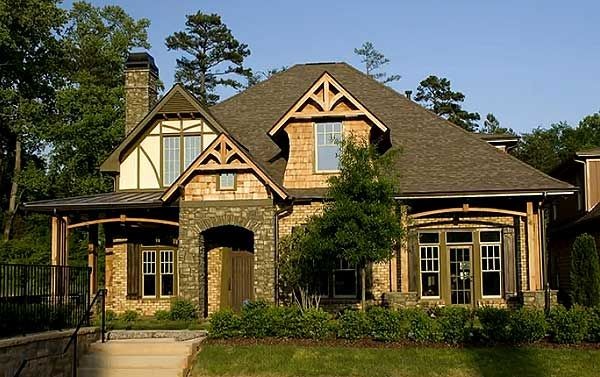 Timberframe is one of the oldest construction technologies, one of the most advanced in our days. When building a house, a frame is created from a massive beam from the foundation to the roof. In this frame, all the elements are connected either with the help of carpentry and carpentry joints, reinforced with nails, and with the help of various metal joints: corners, profiles, and studs. Such a design, if properly connected, can withstand a hurricane wind, an earthquake, and snow loads.
Then the frame is sheathed with panels or, as in the Middle Ages, with stone, brick, or clay. But, of course, in our time, the frame is often sheathed on the outside with SIP panels or an ordinary frame made of boards, leaving the beam visible from the inside. This creates an original and beautiful interior design of the house. To create a frame, a beam or log processed with colored or transparent stains is used.
The half-timbered buildings were decorated with rich carvings on the protruding ends of the beams and their lookups, and sometimes the rest of the boards; the fields between them, serving only for filling and not having constructive significance, were decorated with figures formed by masonry. At the beginning of the XX century, Timberframe technology was successfully used in cottage constructions. Timberframe is a building of frame construction typical to many countries of Central and Northern Europe. It goes back to the technique of building the ancient Romans. It is based on the connection of horizontal and vertical wooden beams connected by braces of the same material, the voids filled with brick, clay, and other materials. The structural base is not masked but is revealed by the color of the wooden bars and forms a pattern on the wall's surface. This technique allows you to infinitely diversify the color appearance of the house and the streets, squares, and cities. Often wooden structures were decorated with sculptures. Sometimes constructions were arranged overhanging above the first floor. It is prevalent in Germany, France, and England.
A house with a timber frame is very durable. Until now, in many countries, houses built using this technology in the 16th century have survived. But such construction is quite expensive and time-consuming. Instead, you can partially use the timber inside, and on the outside, you can wall the walls with imitation timber over plastered walls. Thus, you will live in a half-timbered house, surprising your guests with its beauty.