Page has been viewed 2382 times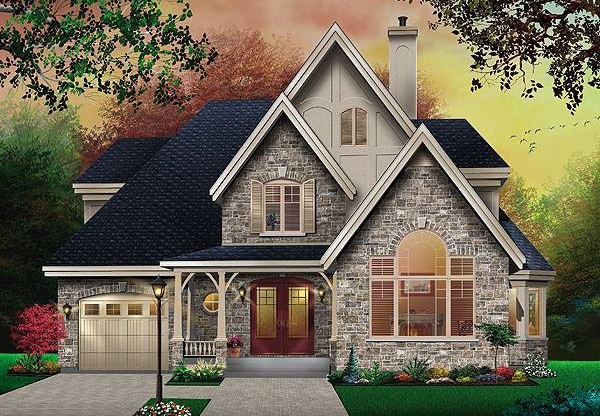 You will build a warm, beautiful, and comfortable house by purchasing a frame house plan. A place that would not take years to make, but around six months, frame houses allow you to easily replan them, where you can hide open pipes and wires inside the walls and ceilings. Frame house designs give more spacious rooms due to the thinner walls.
Frame houses have rightfully earned their popularity: they are cheap, built quickly, and have a high level of thermal insulation, thanks to which you can save a lot of money on heating.
Besides, frame houses are environmentally friendly. All materials used for the construction of the house have a biological basis (these are metal, wood, gypsum, cement) and do not emit any harmful substances into the environment. And since the buildings are erected quickly, they do not leave behind mountains of construction waste. The worn-out internal and external finishing materials are easily removed and replaced with new ones.
Having built a house, you will be glad that much less money and time is spent on construction. How happy the family will be when they go on vacation with the money saved on heating! And how grateful your descendants will be for clean air and healthy ecology. The frame house will give you all these joys. And to help you become happier, we select the best frame house plans for you. Other people have already built their homes from one of these plans. Look at the photos of the interiors of frame houses and tell us, aren't these houses unique?
Frame houses have only one drawback - it is challenging to create the right house design. After all, a frame house must be stable and durable despite the relatively thin building materials. Boards with a section of only 2x4 or 2x6 inches and a length of more than 6 ft must withstand the roof and possibly the second or even the third floor, floors, and everything in the house. However, this will not be a severe problem if you buy or order a well-made project.
Summarize.
Ten advantages that you get if you buy a frame house plan

You will already live in the house while others are still building the box with other technologies at home.
The high processability of wood allows you to build your own hands and collect from sets prepared at the woodworking plant.
The use of wood in construction improves the planet's ecology, unlike other energy-intensive materials, such as brick or aerated concrete, which worsen it.
The building is easy to conduct pipes and wiring in the walls and ceilings in the frame.
The house plans a flexible layout: building a second floor beyond the first or with a completely different design. It is easy to clean or add walls in an already built home, changing the layout.
The foundation for a frame house is twice as cheap as the supporting walls are already, so you can quickly build a frame house with a monolithic or frame basement floor.
Frame houses are warmer than any other structures with the same thickness of walls. Houses from SIP are a kind of frame technology.
You can hang cabinets, shelves, or paintings on the frame walls using simple nails or screws.
Wood floors are warmer than concrete, and it is possible to conduct various pipes and wires in them. It is more beneficial for joints due to the elasticity of the wood.
Frame technology has been tested for centuries of construction. Famous frame houses were built in the 15th century, in which people still live.
By buying a frame house plan, you contribute to the health of your and other people's children, as the frame house is the most eco-friendly house in the world.