Page has been viewed 148 times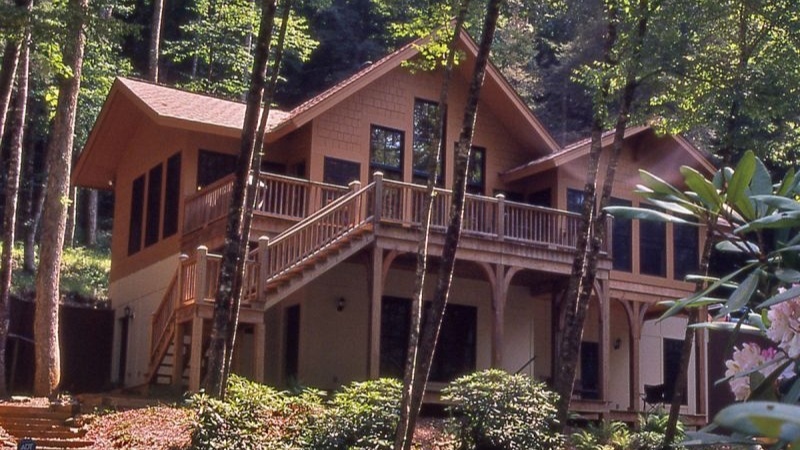 Chalet-style house designs came to us from Switzerland. Residents of the Swiss Alps built small cottages for shepherds in the highlands. In the summer, shepherds transferred flocks of sheep to high-mountain meadows from the valley. Local erected houses with gable roofs and overhangs up to 1 meter wide to protect against the bright mountain sun. The roofs resembled shepherd's hats, which were called chalets, so people called chalet houses.
The Swiss-built a foundation on the mountainside out of stones, and a house of wooden lumber, so the house has a stone lower level and a wooden upper. On the lower ground floor, there was an exit to the courtyard that covered the terrace. The first to use this house design was the owners of small family hotels when holidays in the Alps came into vogue in England and France. From the terrace, there was a stunning view of the mountains. Subsequently, they began to build houses in the mountains and on the seashore, and in other places where it was possible to use beautiful views of the surrounding area.
Later, architects began to equip chalet-style cottage plans with panoramic windows and often build without a basement floor. Now the main features of the chalet-style are gable roofs, panoramic windows, terraces, combined facing of stone and plaster or stone and planks.
In our plans catalog of chalet-style houses, you will find both large and small houses, houses for permanent residence or holiday cottages, as well as houses with a daylight basement or windows and a door leading to the courtyard. We hope that you will appreciate the excellent planning and appearance of our chalet-style house plans.
Большие террасы и цокольный этаж
  Позднее местные жители строили по проектам в стиле шале магазины и гостиницы для туристов. Хозяева гостиниц пристраивали террасы над цоколем, чтобы туристы любовались горными пейзажами. Путешественникам понравились дома в стиле шале за простоту и практичность дизайна.
  Архитекторы создают проекты домов в стиле шале и для ровных участков. Они декорируют низ камнем или штукатуркой, для создания впечатления цокольного этажа. Низ дома делают из бетона, деревянного каркаса или кирпича. Второй этаж оформляется под деревянный. Оба этажа возводятся из одинаковых материалов. Люди называют похожие дома шали, даже если строят на побережье моря. Проект в стиле шале это фасад, а не технология. Проект дачного коттеджа с двусканой крышей превращается в дом в стиле шале с соответствующей отделкой стен.
  Интерьер в стиле шале.
Не закрывайте полностью верхнюю часть дома перекрытием - сделайте открытую лесницу на балкон или лофт. Пусть стропила и балки остануться видимыми. Подшейте потолок деревом. Получится гостиная со вторым светом и видимыми балками и стропилами.