Page has been viewed 267 times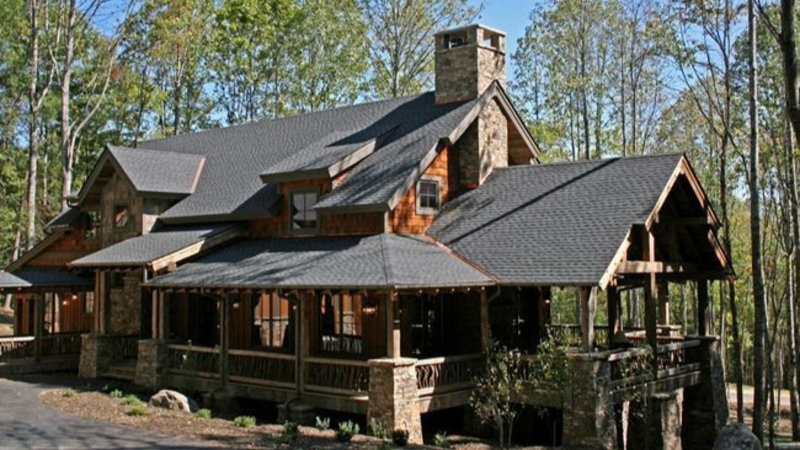 A country-style house cannot be confused with any other style of home. Complicated roofs with wide overhangs, from under which look carved rafters and charming dormer windows of different sizes characterize the country style.
Romantic verandas at the front of the house, decorated with tapering columns of timber on the bases decorated with wild stone or brick, as if invited to enter a cozy and hospitable house. A lot of windows, with ordinary, with corrugated or stained glass windows complex binding, sometimes with shutters are a characteristic feature of country style. To decorate your house in country style, you can safely use traditional Russian carved platbands, slotted shutters, balustrades of stairs, balconies, and verandas of carved balusters, and much more.
Inside, massive beams and rafters adorning the vaulted ceilings are an indispensable attribute of the interior in the style of country. The layout of houses of this style is usually done with open space, in which the living room, dining room, and kitchen are combined into one room. This layout corresponds to a simple way of life when neighbors or friends can easily run "on the light." This is very similar to the Russian way of life when we receive guests in the kitchen and richly laid the table.
The country-style originated from the Art and Crafts movement, which began in the late 19th century in England and the early 20th century in America. This movement promoted the folk traditions of woodcarving and encouraged the use of simple forms and natural materials. This style, which, for sure, will always be relevant! In our catalog, you can find projects of country-style houses of various sizes, single-story house plans and a mansard, house plans with a garage, or houses for a plot with a slope with a basement floor.
The price of the project of the house includes one foundation plan.