Switch language
One-story 2 Bedroom Modern House Plan With Daylight Basement
Page has been viewed 245 times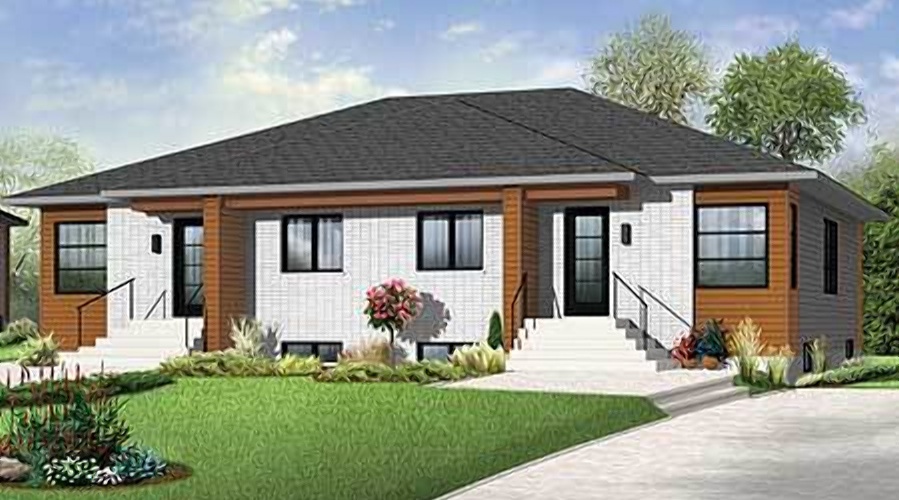 House Plan DR-22369-1-2-douplex
Mirror reverse
A popular plan for a single-story two-family house with minor changes to the facade has become a home in a modern style, with clear lines and a hip roof with a low incline. Each section of this one-story house with separate entrances gives about 913 square feet of area.
To make mirror copies of the two apartments, we made the layouts a little different. For example, you can get into the bathroom from the master bedroom in one section, and in the other section, you need to go to the hall. Also, the layout of the kitchen and bathroom in each apartment is different. Inside, the open plan of the standard rooms creates a spacious interior design.
Similar smaller plan: DR-22342-1-2-duplex.
You can see other plans of one-story houses for two families in the catalog: Plans of one-story houses for two families. If you like modern style, we have a directory: Projects of homes in a contemporary style, where there are both one-story and two-story houses.
Floor Plans
1st Floor Plan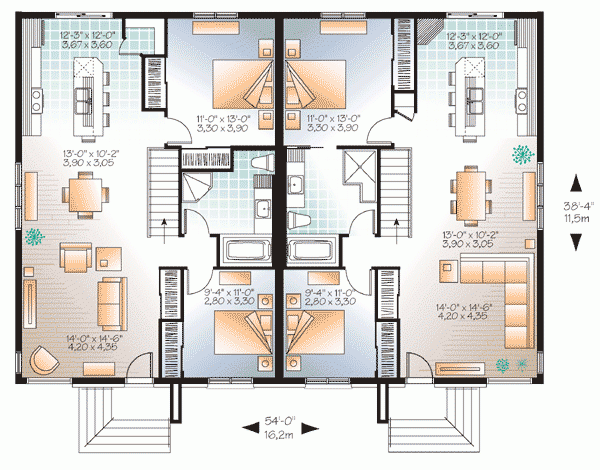 Mirror reverse
Conversion of feet into centimeters
Designer's drawings: $1800 USD.
Ask a Question
Order Plan
Mail us: expert@eplan.house
Quantity
Floor
1
Bedroom
2
Bath
1
Cars
none
Dimensions
Total heating area
2060 sq.ft
1st floor square
2060 sq.ft
House width
54′2″
House depth
38′5″
Ridge Height
18′8″
Building construction type
Foundation
Exterior Walls
Exterior wall thickness
2x6
Wall insulation
3.35
Wall materials
Facade cladding
Roof
Roof type
Main roof pitch
8 by 12
Rafters
SIMILAR HOUSE PLANS