Page has been viewed 71 times
The two-story house plan designed for one family. The heated area of ​​the house is 187.7 m2, including the area of ​​the first floor - 138.5m2 and the area of ​​the second floor - 49.1m2. Dimensions - 14.7 by 17.7 m. The house has 3 bedrooms and 2 bathrooms. The height of the ceilings of…
Read more...
HOUSE PLAN DESCRIPTION
The two-story house plan designed for one family. The heated area of ​​the house is 187.7 m2, including the area of ​​the first floor - 138.5m2 and the area of ​​the second floor - 49.1m2. Dimensions - 14.7 by 17.7 m.
The house has 3 bedrooms and 2 bathrooms. The height of the ceilings of the first floor is 2.4 m., And the height of the ceilings of the second floor is 2.4 m. The project of this house has a built-in garage for 2 cars. Entrance to the garage in front. The foundation of the house: basement, ribbon. The cost of one type of foundation is included in the project cost. (Specify).
For the walls used wooden frame thickness 50x100 mm mm. The heat resistance of the walls is 2.29 K × m2 / W, so this project is suitable for a warm climate or for a cold one, but with additional insulation.
The angle of the main roof 27 °. The height of the roof top point from the foundation is 7 m.
The main features of the layout of this cottage are: front dining room, laundry room on the 1st floor, extra room in the attic, second light, fireplace,
Features of the kitchen: kitchen-dining room.
The master bedroom has the following amenities: bathroom and shower.
The house has a front porch.
Total Heating Area:
2020 sq.feet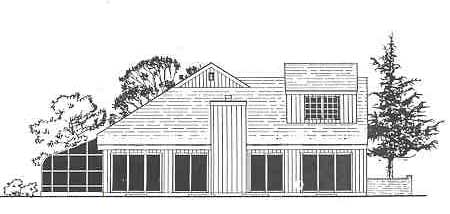 1st Floor Plan
2nd Floor Plan
House Plan's Price Architectural Drawings*:
1600 USD
Ask a Question —
Order Plan —
Mail us: expert@eplan.house
What included?
Each pdf plan includes:
Cover Sheet: Shows the front elevation and typical notes and requirements.
Exterior Elevations: Shows the front, rear and sides of the home including exterior materials, details and measurement
Floor Plans: Shows the placement of walls and the dimensions for rooms, doors, windows, stairways, etc. for each floor
Electrical Plans: Shows the location of outlets, fixtures and switches. They are shown as a separate sheet to make the floor plans more legible.
Foundation Plans: will include a basement, crawlspace or slab depending on what is available for that home plan. (Please refer to the home plan's details sheet to see what foundation options are available for a specific home plan.) The foundation plan details the layout and construction of the foundation.
Roof Plan
Typical wall section
Typical Stair section
Cabinets are shown on most but not all plans. If cabinets are a must please call to confirm they will be included in your set.
HOUSE PLAN DATA
House plan type: single family
Floors: 2
Total Heated Area: 2020 sq.feet
1st floor: 1490 sq.feet
2nd floor: 520 sq.feet
3rd floor: 0 sq.feet
Width: 48′3″
Depth: 58′1″
Ridge Height: 22′12″
MAIN ROOMS
Bedroom: 3
Bathroom: 2
Half bath: 1
1st floor ceiling: 7′10″
2nd floor ceiling: 7′10″
GARAGE
Cars: 2
Area: 480 sq.feet
Garage type: attached garage
Entry Location: front
FOUNDATION
Standard Foundations: basement, crawlspace
ROOF
Main roof pitch: 6:12
Secondary roof pitch: 2:12
Rafters: lumber
Roof type: a gable roof
WALL
Construction type: wood frame
Exterior wall thickness: 2x4
Wall R-value: 13°F·ft2·h/BTU
FACADE
Cladding:
LIVING ROOM FEATURES
fireplace, clerestory windows
KITCHEN / DINING
BEDROOM FEATURES
1st floor master, bath and shower
ROOMS
1st floor laundry, formal dining
HOUSE PLAN STYLE
OUTDOOR SPACES