Switch language
Plan HP-3960-2-2: One-story 2 Bedroom Modern House Plan For Slopping Lot
Page has been viewed 246 times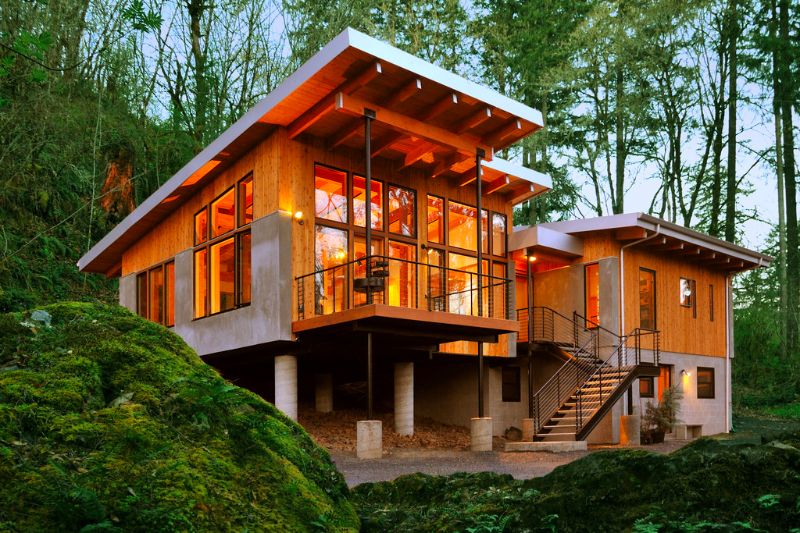 House Plan HP-3960-2-2
Mirror reverse
On the ground floor, there is a living room and a kitchen-dining room. The large bedroom has a bathroom and a dressing room. The living room on the second floor and the wing of the master bedroom of this compact modern house occupy two separate areas, two spacious rooms are connected by a low foyer. The overlap of the wing where the living room is located rests on concrete piles, towering above the slope of the forest area. The structure is harmoniously incorporated into the natural landscape, reducing its negative impact on it. The minimalist modern palette combines a concrete foundation with the structure of columns and wooden beams, wooden rafters of the roof, steel fasteners, stucco, and wooden cedar siding, as well as many tall windows overlooking the landscape below. Another wing of the building is covered with a roof with an opposite slope, under which windows with transoms are located, allowing you to see the surrounding forest. In addition to the architectural drawings, this plan is provided with a foundation plan, a ceiling framework plan, retaining wall details and floor details, beams and piles, a roof plan, and column details.
Floor Plans
1st Floor Plan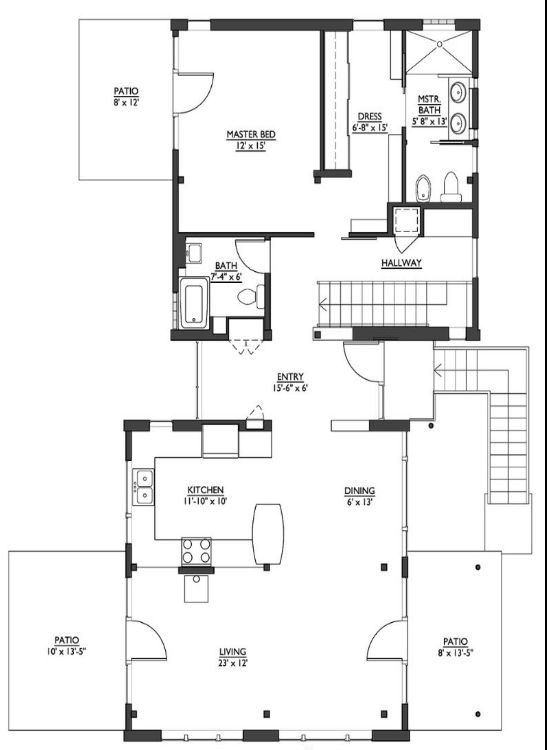 Mirror reverse
Basement Plan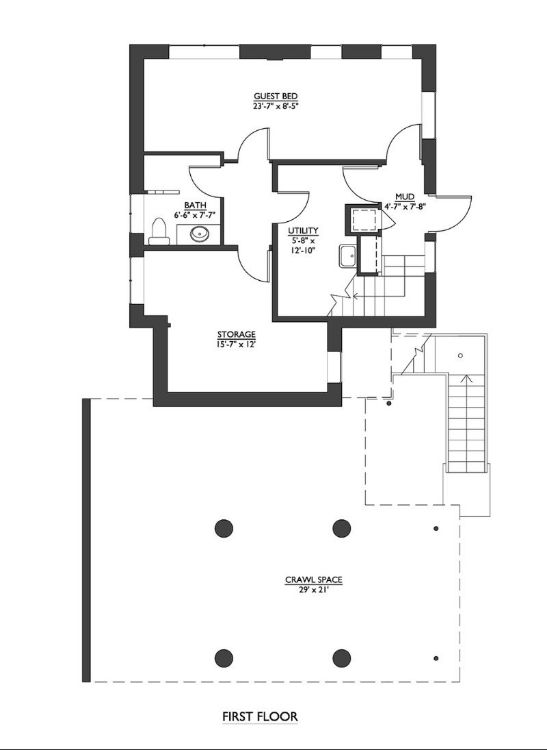 Mirror reverse
Convert Feet and inches to meters and vice versa
Designer's drawings: $900 USD.
Ask a Question
Order Plan
Mail us: expert@eplan.house
Quantity
Floor
1
Bedroom
2
Bath
2
Half bath
1
Cars
2
Dimensions
Total heating area
1930 sq.ft
1st floor square
1280 sq.ft
Basement square
650 sq.ft
House width
49′6″
House depth
25′7″
Ridge Height
22′8″
1st Floor ceiling height
8′10″
Exterior Walls
Exterior wall thickness
2x4
Wall materials
Facade cladding
Roof
Main roof pitch
1 by 12
Rafters
Living room feature
Kitchen feature
Bedroom Feature
walk-in closet
1st floor master
outdoor exit
Garage
Garage type
Detached garage house plans
Garage area
610 sq.ft
SIMILAR HOUSE PLANS