Plan of a frame house with an attic and a two-car garage for a site with a slope
Page has been viewed 310 times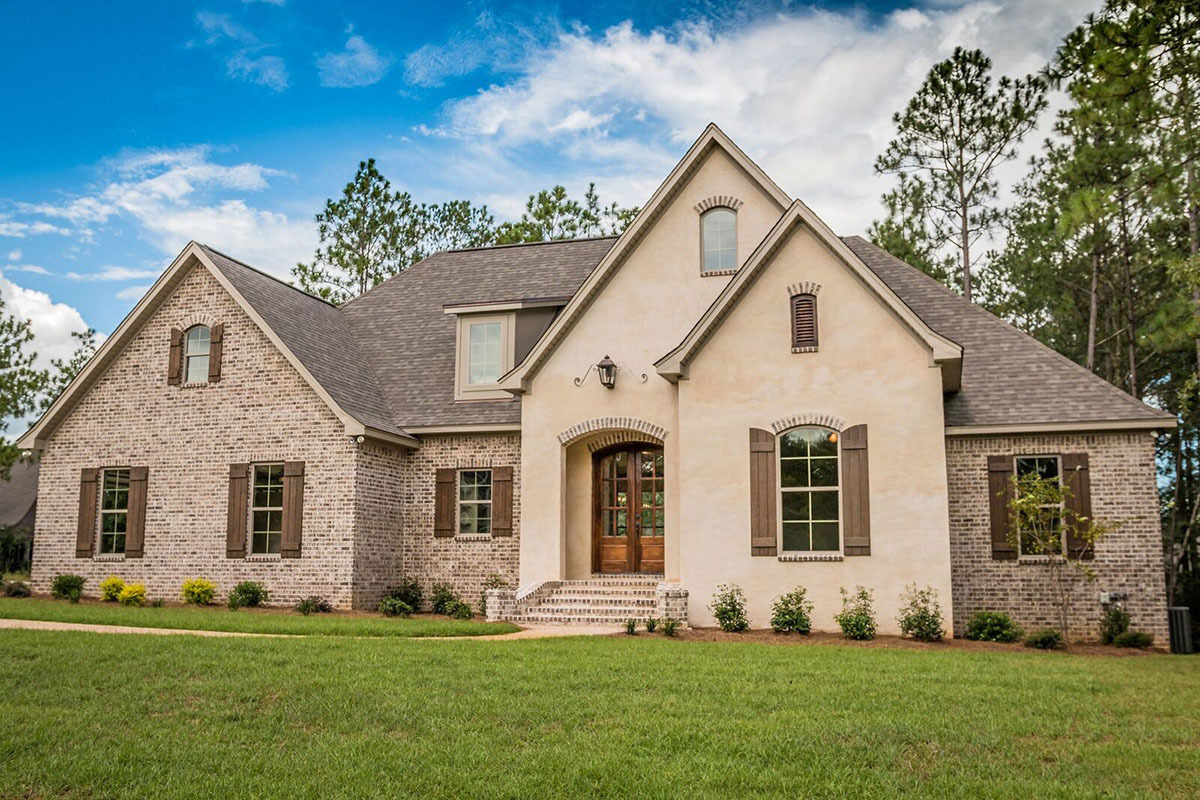 House Plan HZ-51740-1-2-3-4
Mirror reverse
It is simply impossible to look at this plan without admiring it. How right the architect who created it is. He makes you look at the house without noticing the light clouds in the blue sky or the green lawn around it. All because your eyes are directed to the magnificent roof with its many cleverly chosen aesthetic solutions in architecture and design. Height and slope, arched windows, and overhang trim. 
The arched entry, large windows with shutters against the crisp lines of the exterior walls bring a French-inspired elegance and fabulousness to the plan of the house.
The interior layout is simply chic. It is worth paying attention to the living room's high ceilings with a fireplace, the comfortable and equipped bedrooms, and many not large spaces. The garage in this project is, in my opinion, a correct decision - the entrance from the side, which does not spoil the front view of the house, large, for two cars with access into the house.
The architect's top floor was not planned; your ideas are enormous, but the room with toilet and bathroom above the garage is still marked as a bonus, which you can build and after all the construction and finishing work.
The basement or ground floor also has an accessible layout, leaving you to decide how to use this space.
The financial costs for the construction of this house project are more than modest, thanks to the wooden frame, and further maintenance is minimal. 
And I definitely insist on the use of modern insulation, because the frame technology of construction is good with low energy costs during the period of living in such a house.
ENTRANCE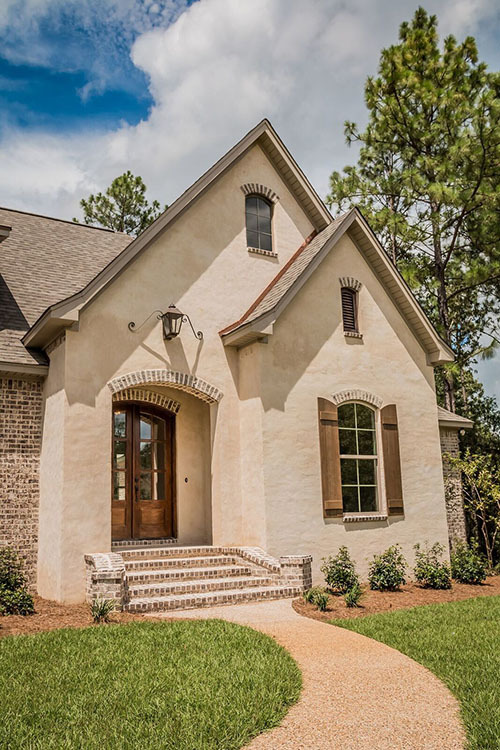 THE GREAT ROOM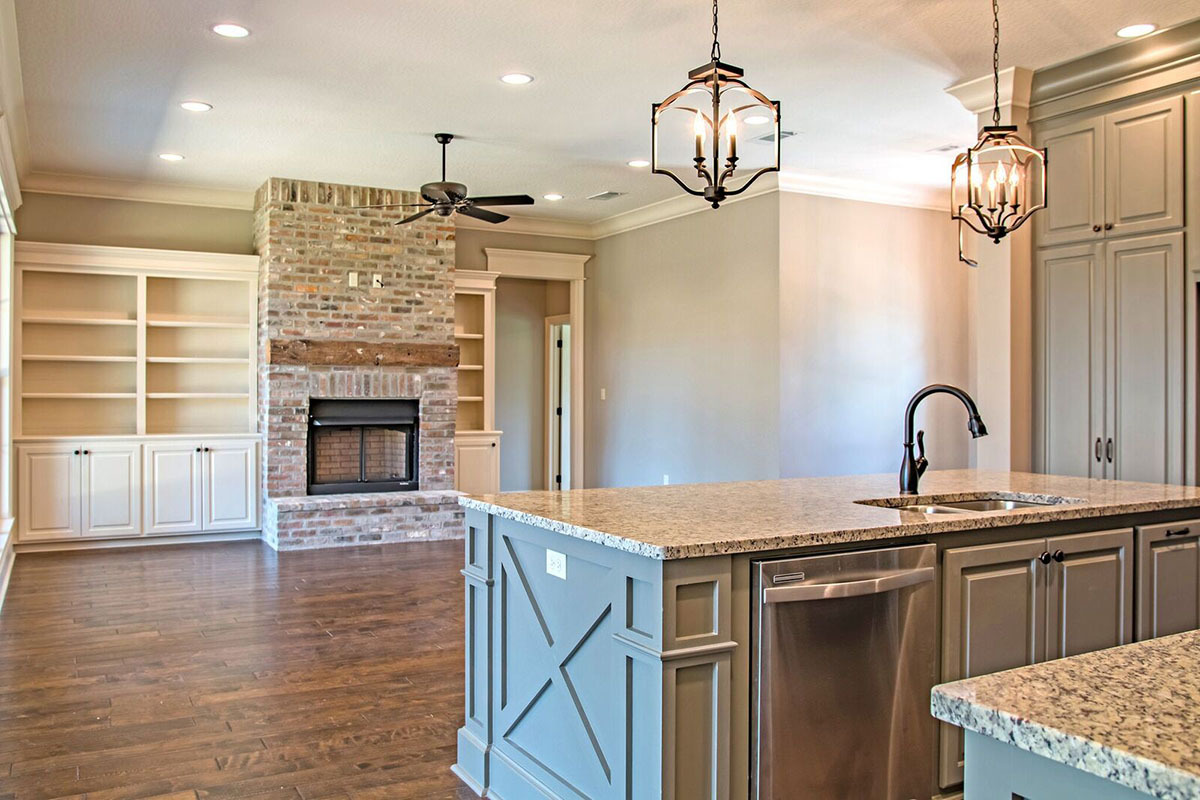 REAR VIEW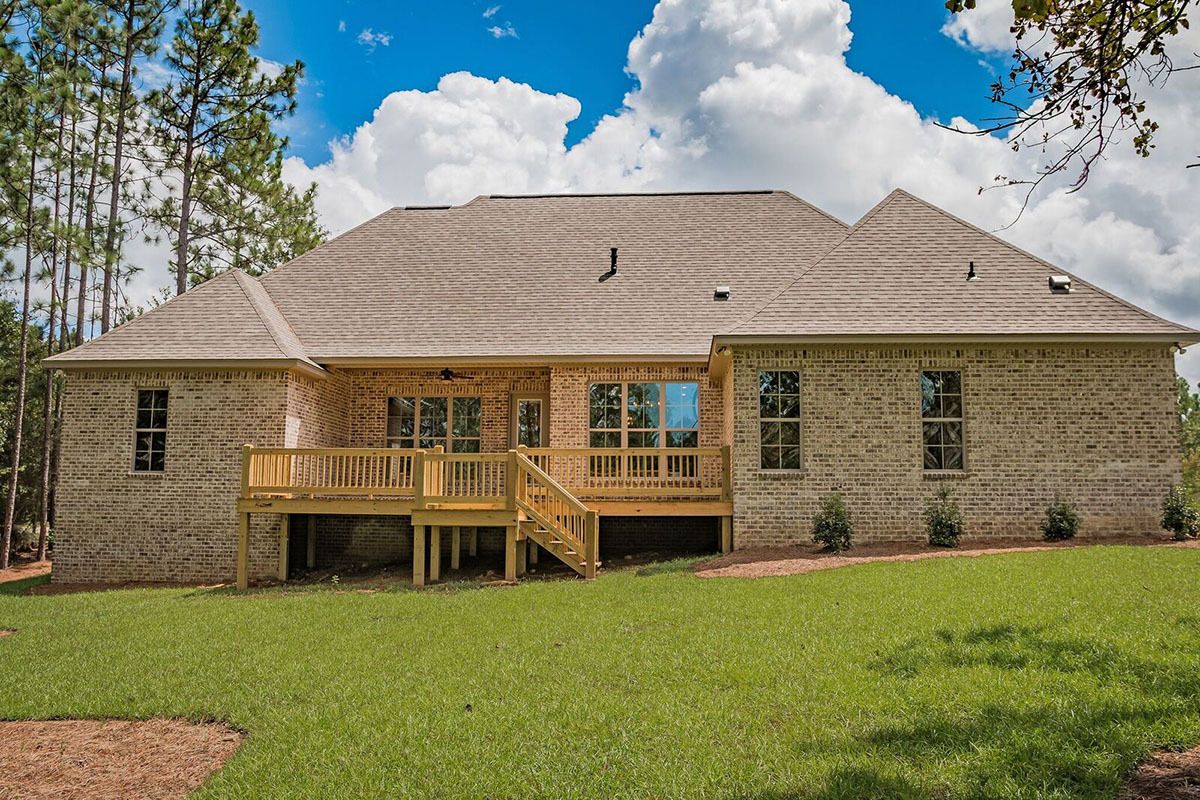 KITCHEN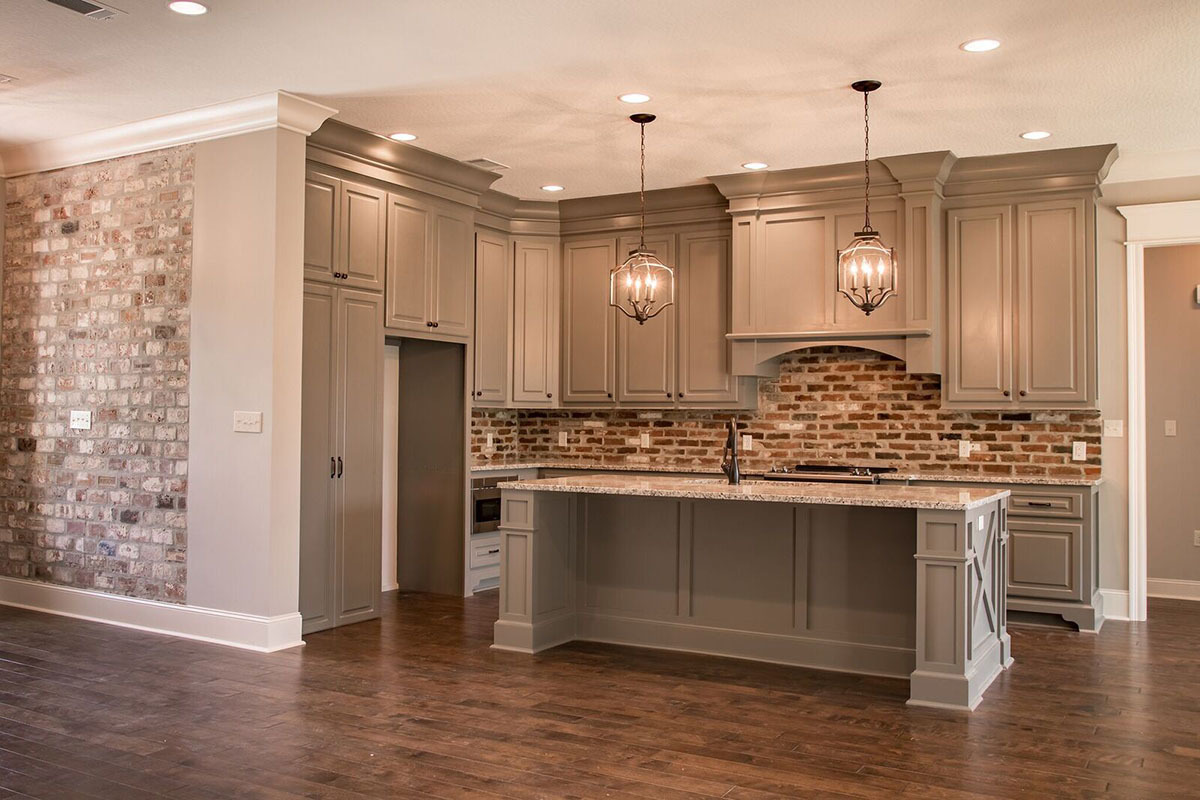 BATHROOM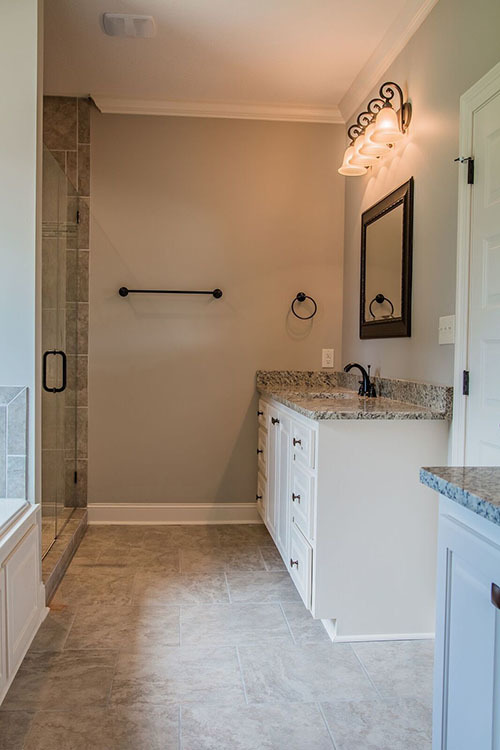 Floor Plans
1st Floor Plan
Mirror reverse
2nd Floor Plan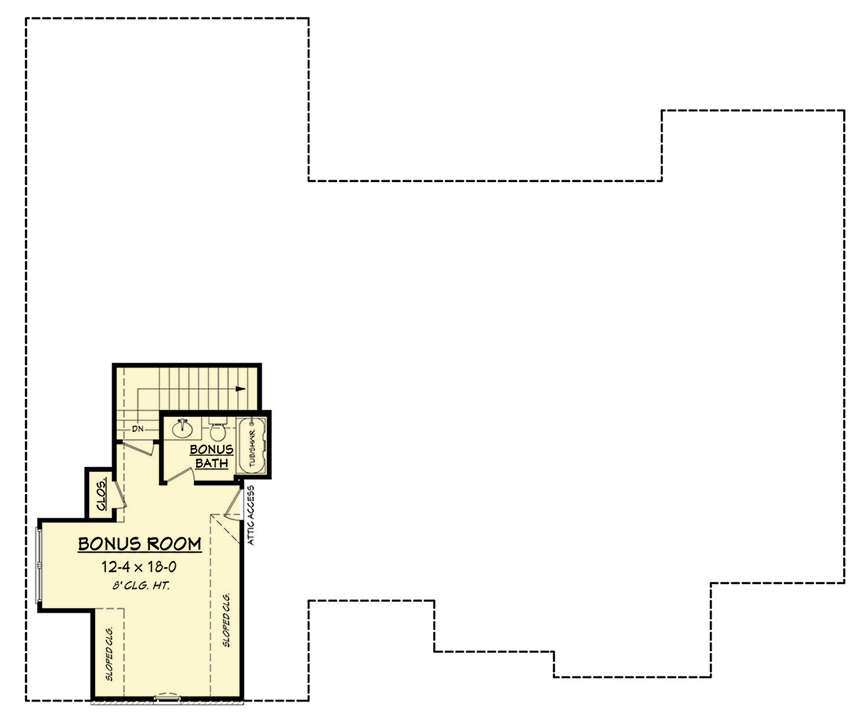 Mirror reverse
Basement Plan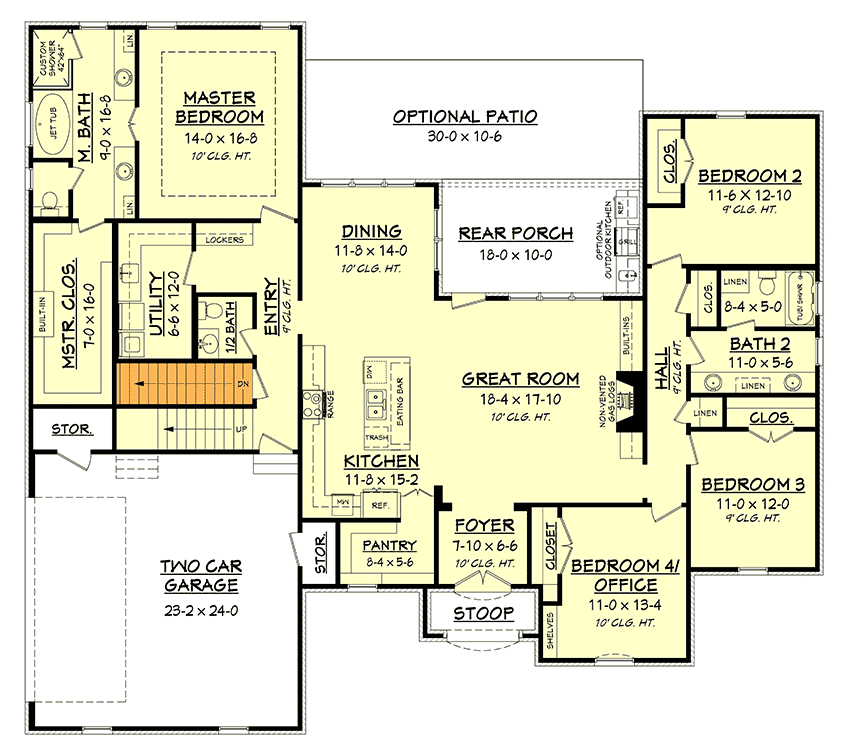 Mirror reverse
See all house plans from this designer
Convert Feet and inches to meters and vice versa
Designer's drawings: $1300 USD.
Quantity
Floor
1 1,5
Bedroom
4 5
Bath
4
Half bath
1
Cars
2
Dimensions
Total heating area
2390 sq.ft
1st floor square
2390 sq.ft
2nd floor square
360 sq.ft
House width
68′11″
House depth
58′1″
Ridge Height
27′11″
1st Floor ceiling height
9′2″
Exterior Walls
Wall insulation
2.64
Wall materials
Roof
Main roof pitch
12 by 12
Rafters
Living room feature
fireplace
open layout
french doors
entry to the rear porch
entry to the front porch
Kitchen feature
Bedroom Feature
walk-in closet
1st floor master
seating place
bath and shower
split bedrooms
Features
Special rooms
First floor bedroom / flex room
House plans with living space above the garage
First floor master bedroom house plans
Garage
Garage Location
front
Garage area
580 sq.ft
Outdoor living
covered entry porch
rear veranda
patio
Facade type
Suitable For
single family
a vacation retreat
cold climates
wheelchair users
a multigeneration family
Lot type
Style
Purpose
cold climates
a view lot
wheelchair users
a multigeneration family
SIMILAR HOUSE PLANS