Switch language
Plan HP-5495-2-5: Two-story 5 Bedroom Modern House Plan
Page has been viewed 189 times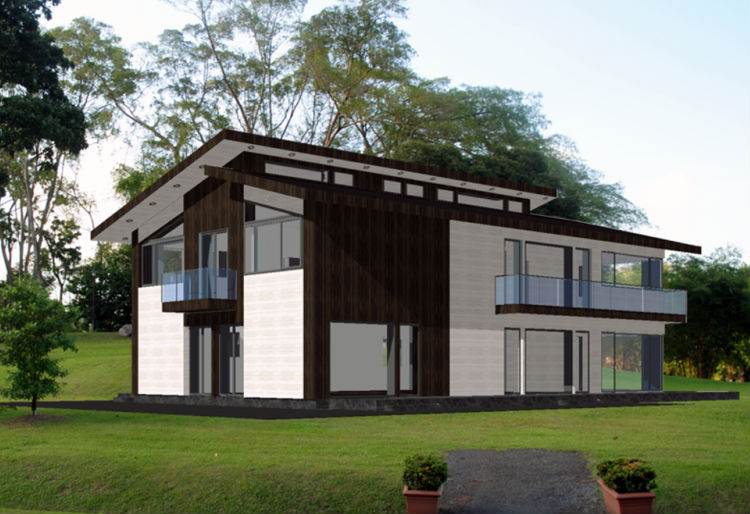 House Plan HP-5495-2-5
Mirror reverse
You should definitely think about this modern two-story duplex, if you have grown-up children who have not yet found a home, active relatives of spouses or if you want to get additional income from the rent.
This beautiful and dynamic plan of a two-story modern style house of 3956 sq.ft. without a garage and with 5 bedrooms is suitable for two families. The simple at first glance shape of the house does not cause boredom, thanks to the two pent roofs, one above the other and in between a continuous strip of second light windows. The facade of the house is finished with contrasting materials: plaster and wooden siding Balconies of different sizes are fenced with glass parapet. The project of a modern duplex with 2 apartments of different sizes on two levels. Around the house, there are spacious terraces for each apartment. The entrances are different but located on one side of the house. There is a huge dressing room to the left of the entrance, more like a warehouse, and a small bathroom with a shower on the right. Behind it, there is a laundry room and a boiler room at the same time. The kitchen-dining room is separated from the living room by a small partition in the center of the house, on which you can hang a TV. Next to the living room is a winter garden, in which two walls are solid glass from floor to ceiling. Both the winter garden and the living room can be accessed from the terrace. Stairs to the second floor begin in the living room. On the second floor, there are 3 bedrooms and a bathroom. In this case, the bathroom and dressing rooms are located on the inner wall of the house for better sound insulation of apartments. In the master bedroom, a bathroom of huge size allowed to place a mini pool.
In another apartment, the layout of the first floor mirrors the first apartment, except for the fact that its width is no longer winter garden and laundry room. The layout of the second floor is different. There are two bedrooms, a laundry room, and a bathroom. There is a small balcony at the end of the house. The area of the second apartment is about 1200 sq. ft and the first one - about 2500 sq. ft.
 
Floor Plans
1st Floor Plan
Mirror reverse
2nd Floor Plan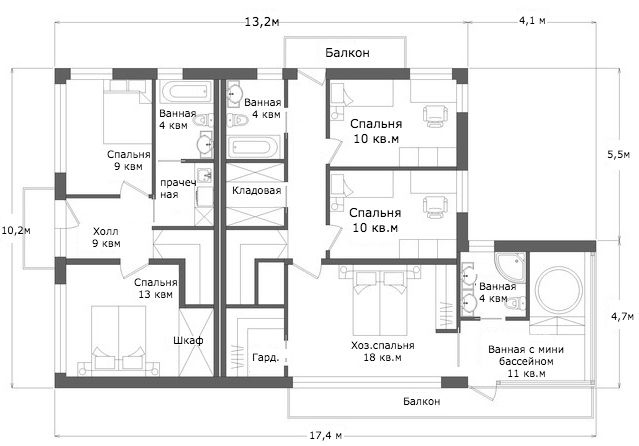 Mirror reverse
Conversion of feet into centimeters
Designer's drawings: $3200 USD.
Ask a Question
Order Plan
Mail us: expert@eplan.house
Quantity
Floor
2
Bedroom
5
Bath
4
Half bath
1
Cars
none
Dimensions
Total heating area
3910 sq.ft
1st floor square
1240 sq.ft
2nd floor square
1220 sq.ft
House width
33′6″
House depth
56′5″
Ridge Height
27′11″
1st Floor ceiling height
10′10″
2nd Floor ceiling height
8′10″
Building construction type
Foundation
Exterior Walls
Wall materials
Facade cladding
Roof
Roof type
Main roof pitch
9 by 12
Rafters
Bedroom Feature
walk-in closet
bath and shower
Outdoor living
Facade type
Space features
wheelchair users
SIMILAR HOUSE PLANS